Strategic Partnership
In 2010, Rockin4ALS partnered with The ALS Association Wisconsin Chapter. The Chapter provides patient services throughout Wisconsin and has an ALS Association Certified Clinic at Froedtert Hospital in Milwaukee. In addition, the Chapter raises funds to provide ALS research grants at the state and national level.
Madison Community of ALS Support
Over the years, Rockin4ALS worked jointly with the Chapter on multiple initiatives and in 2017, formed a strategic alliance to build a Madison Community of ALS Support. Rockin4ALS is now engaged in a Strategic Outreach Program to connect Madison patients and caregivers to the Chapter.
The Chapter offers supportive programs and services free of charge, including personalized Care Service Coordinators to help navigate healthcare options and programs, and answer questions about insurance and disability – and to simply accompany the patient and family through the ALS journey.
The Chapter facilitates local patient and caregiver support groups, operates an equipment loan program for assistive communication and durable equipment, and provides grants for automobile & home modifications, and transportation costs to medical appointments. This is just a brief overview of support and services. For complete information, please visit alsawi.org.
All Rockin4ALS funds are solely dedicated to helping provide patients and caregivers with services offered by the Wisconsin Chapter.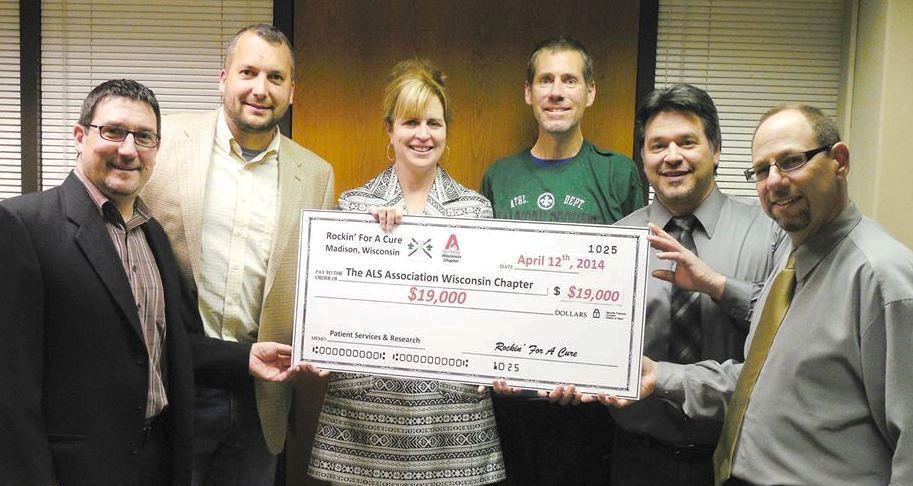 Executive Director, Melanie Roach-Bekos, with Patient Advocate, Jim Eutizzi, and Rockin4ALS representatives.